ISBN (International Standard Book Number) in India is operated by the Indian government through the website isbn.gov.in. The Indian government provides ISBN numbers to authors and publisher's in India for free, but that comes with a few downsides.
There are few steps that you need to take correctly to obtain an ISBN from the Indian ISBN agency "Raja Rammohun Roy National Agency (RRRN)". In this article, you will learn everything you need to know about ISBN in general and how to get an ISBN in India.
What is ISBN or ISBN number?
The International Standard Book Number (ISBN) is a unique number in the world that is assigned to each format of book published. If a book is available in ebook and paperback format, then there will be two ISBN used for the book. One ISBN for each format of the book title. Same ISBN can't be reused with other books. If a ISBN has been previously used by a book that is now unpublished or not available, then the same ISBN can be reused, but that is in the hand of the ISBN agency to reissue the same ISBN.
What is ISBN barcode?
A barcode is a machine-readable code in the form of lines, usually placed on the back of the book cover or any products. Instead of typing ISBN number, barcode make it easy to copy the number using a scanner. You might have seen using barcode scanner in a shopping mall and local store. Book store use ISBN to manage their book inventory, barcode on the back of the book cover provide easy way to scan ISBN using a scanner.
What is ISBN agency?
GS1 is a global non profit organisation that is responsible for global product identification include book Identification. GS1 maintain database of each phisical products and books in the world. GS1 organisation give ISBN agency to issue ISBN to publisher's and authors. Each country have one official ISBN agency that is responsible for issuing ISBN to their citizens. Must countries ISBN agencies charges a fees for obtaining a ISBN and some agency provide ISBN for free to their citizens only.
How ISBNs work?
All ISBNs are unique in the world. At the time of obtaining a ISBN, author or publisher have to provide full local address, publisher name and book metadata (title, author name, book format and other info). ISBN agency forward this info to global ISBN database. At the time of publishing a book, ISBN number is checked in the global database to make sure the ISBN is unique, and it's assigned to the correct book publisher or imprint name. For example, If you use a self-publishing platform such as Amazon KDP, than KDP will verify the ISBN at the time of uploading your book.
How to get an ISBN in India
Getting an ISBN number in India is free, but it's not easy and takes longer. The US ISBN agency provides ISBN faster and with excellent customer support for a price. For this reason, even Indian authors and publishers purchase ISBN from the US ISBN agency. You pay a price upfront and get ISBN instantly and as much you need. The only problem is if you want to purchase just 1 ISBN, then the price will be a little higher compared to purchasing ISBN in bulk.
To obtain an ISBN in India, you must be an Indian citizen with Aadhaar and PAN card. Below is the complete process of obtaining an ISBN in India online. You can apply for an ISBN offline too by sending a post card, this guide doesn't cover the offline process.
Step 1: Signup for an account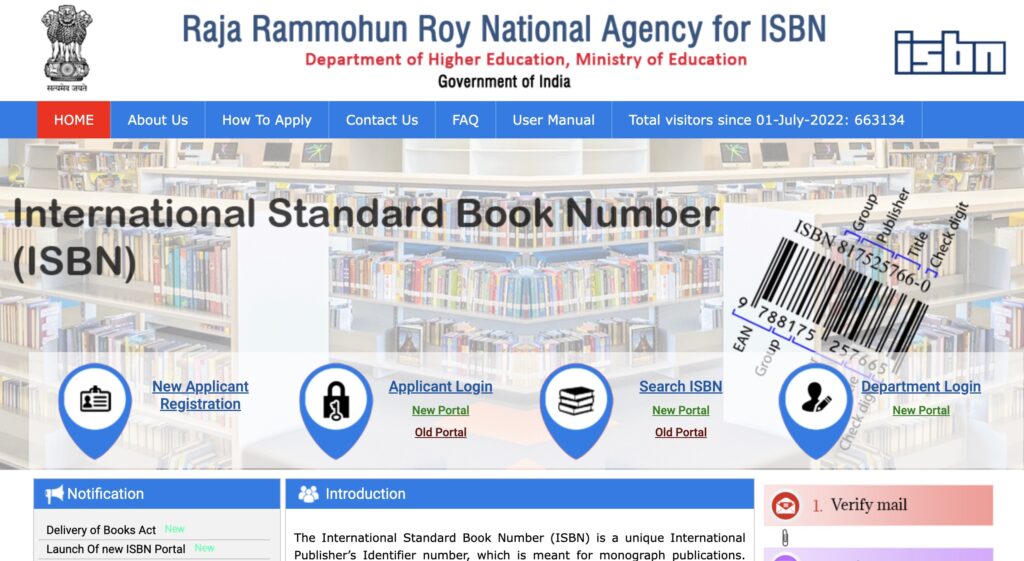 Go to isbn.gov.in, if you are redirected to another URL or website, then don't worry, government websites suck anyway. Click on the "New applicant registration" link on the homepage of the website. You will be redirected to a registration page. Read their terms and conditions and click on the agreed check mark. There are two types of Account on Indian ISBN agency RRRA. Author and publisher account. If you are a registered business in India with GST ID, then apply as a publisher. If you are not, then apply as an author.
Once you fill up the first page and verify your email address and phone, then you will be redirected to a 2nd page with a long form. There you will have to provide full address info and upload your ID card. Once everything completed, then click on the submit button.
It will take up to 2 weeks to get your account approved by RRRA. You will get an email notification with your account login info. Now you have registered an account with the Indian ISBN agency, the next step is to apply for an ISBN, this will take another two weeks, so be patient.
Step 2: Preparation
A few things you need to keep ready before applying for an ISBN. If you make any mistake, then obtaining ISBN will take even longer. You must have a book title, subtitle and author name decided for your book. Thereafter, create a title verso. Title verso is usually a second page of a book. It is also called the copyright page. You can create a simple page in Canva or Photoshop. Make sure the page is 6×9 inches with a white background. No fancy text or design, just a simple page. Furthermore, make sure you download the page in JPG file format and keep the file size within 100kb.
Title verso must have below info:
Book title, subtitle and author name
Full address, Mention Website or social media or email address
Book edition year and ISBN-13 written with blank space after that.
Copyright notification text with year of publication and author name
Title Verso Template:
Copyright © Year, Author Name
All rights reserved. No part of this publication may be reproduced, distributed, or transmitted in any form by any means, including photocopying, recording, or other electronic methods without the prior written permission of the author, except in the case of brief quotations embodied in reviews and certain other noncommercial uses permitted by copyright law.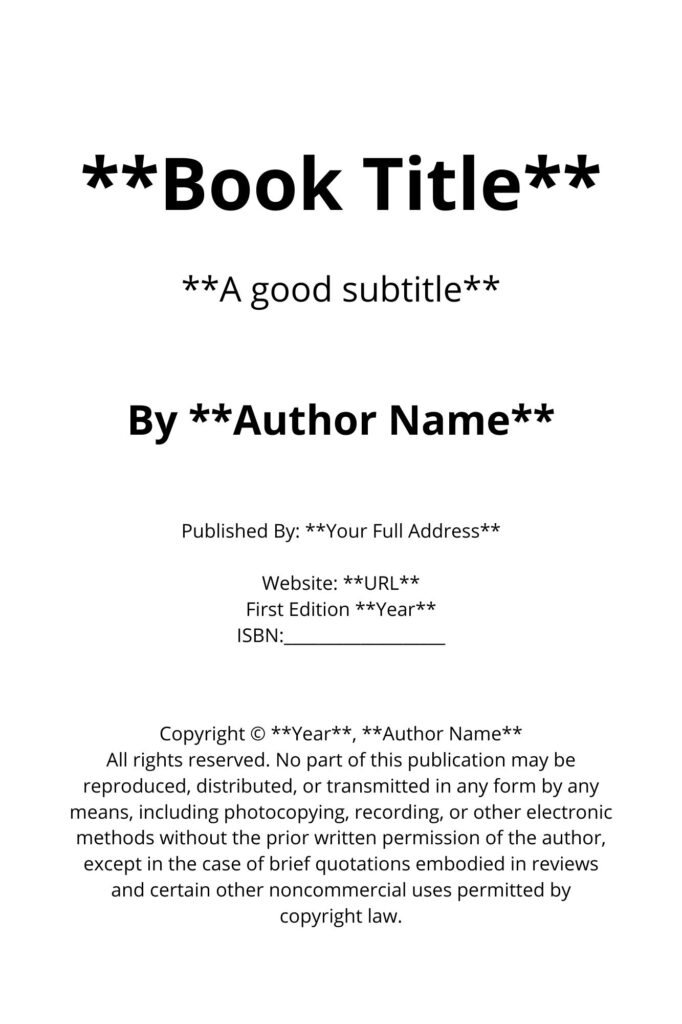 Step 3: Applying for ISBN
Click on the "apply for new ISBN" link on your dashboard after login to your account. Author or publisher name will be auto-fulfilled. You can't apply for an ISBN for another author name or pen name. Don't change name here. Just enter your book title and agree to their log list of terms (Oath & Affirmation + Declaration). On the next page, click on the Final Submit button. Now you need to wait for minimum 1 week.
After a few days or a week, you will get a notification that your application has been approved. Don't get excited, obtaining an ISBN, take one more step.
Step 4: Uploading Data
Once your initial ISBN application is approved, then you need to upload the title verso. To complete that, login to your account and on the dashboard you will see your ISBN application entry. Besides the ISBN application entry, there will be a "submit additional information" link. Click on that, you will be redirected to a page with a pre-fill up form with your book info. You just have to upload your title verso and submit the application.

Once you have uploaded your title verso, then you need to check mark the "Select" and click on the "Submit To RRRNA" button.

After this, your application will get 1 ISBN allocated. This will take 1 week as RRRNA representative will look at your Title verso. You won't get any notification regarding ISBN allocation, so check your application own your own after a week.
Step 5: Update Additional details (optional)
Once you have an ISBN number, then you can use it to publish your book on which ever publishing platform you like. You can use your author's name as imprint name or use any imprint name you like. In this final step, you can add additional information about your book such as series name, book subject, additional book contributors. This step is optional, but I recommend you to do that.
Up and Downsides
Upside
It's free, and the ISBN from RRRNA is good as an ISBN purchased from any other ISBN agency.
Downsides
Total time duration: 2 Weeks for account application + 2 weeks for ISBN application (if you make a mistake then more time will take)
One ISBN at a time: You can't apply for multiple ISBN at the same time. It means you can get 1 ISBN during 2 weeks. For the second ISBN, it will take 2 more weeks. If you are planning to publish your book in multiple formats, then get your multiple ISBN a month before.
Censorship: If you are publishing a book on some controversial subject or if you are politically exposed, then no ISBN for you.
Privacy issue: Your Book ISBN along with your personal name and address might be accessible publicly on the ISBN agency website.
How to get an ISBN within 24 hours
There is a way to get an ISBN instantly or within a day and multiple ISBNs at once. You have to purchase ISBN from other countries. Almost all countries that charges fee for ISBN provide ISBN instantly.
As ISBNs are international unique numbers, then It really doesn't matter the origin of ISBN and no one will ask you or restrict you from using ISBN from other countries. Lots of Indian big to small publisher's use US-based ISBN to publish books in India.
If you don't want to go through all this hustle and want to obtain an ISBN to publish your book in anywhere in the world, then purchase ISBNs from ISBN Publishing (us). We wish you good luck with your book publishing journey. Don't forget to share this article on social media and with your friends.